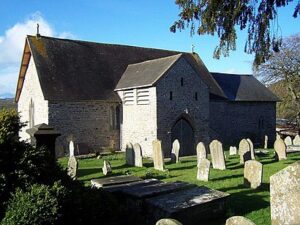 St Eigon's, Llanigon, is the principal church of the parish of Llanigon, an area that stretches from the Upper Honddu valley near Capel-y-Ffin to the banks of the River Wye.
St Eigon's churchyard is reputedly one of the earliest in Wales, if not in Britain.
It is dedicated to Eigen*, the daughter of King Caractacus, the hero of British resistance to the Roman invasion ordered by the Emperor Claudius in 43 BC.
Caractacus was taken prisoner and, with his family, was taken to Rome where he made such an impression that he was pardoned and allowed to live in peace in the city, remaining there until his death.
His family are believed to have been allowed to return to Britain, specifically to Llanigon where according to local tradition, they had lived before.
Whilst in Rome, Caractacus' daughter had become a Christian and tradition has it that she built a chapel on the site of the present church.
The church is mostly 15th – 17th century with some Norman remnants. The 14th century south porch was once used as the living quarters of the priest.
*Some sources dispute the story of St Eigon, proposing that the church is actually dedicated to Eigion, brother of St Cynidr, to whom the parish church in neighbouring Glasbury was dedicated.
Whatever the truth, it is a lovely church of great interest, peace, and a real sense of the Presence set in a quiet village setting.
For times of services at St Eigon's, see the 'Calendar of Services' on this website.