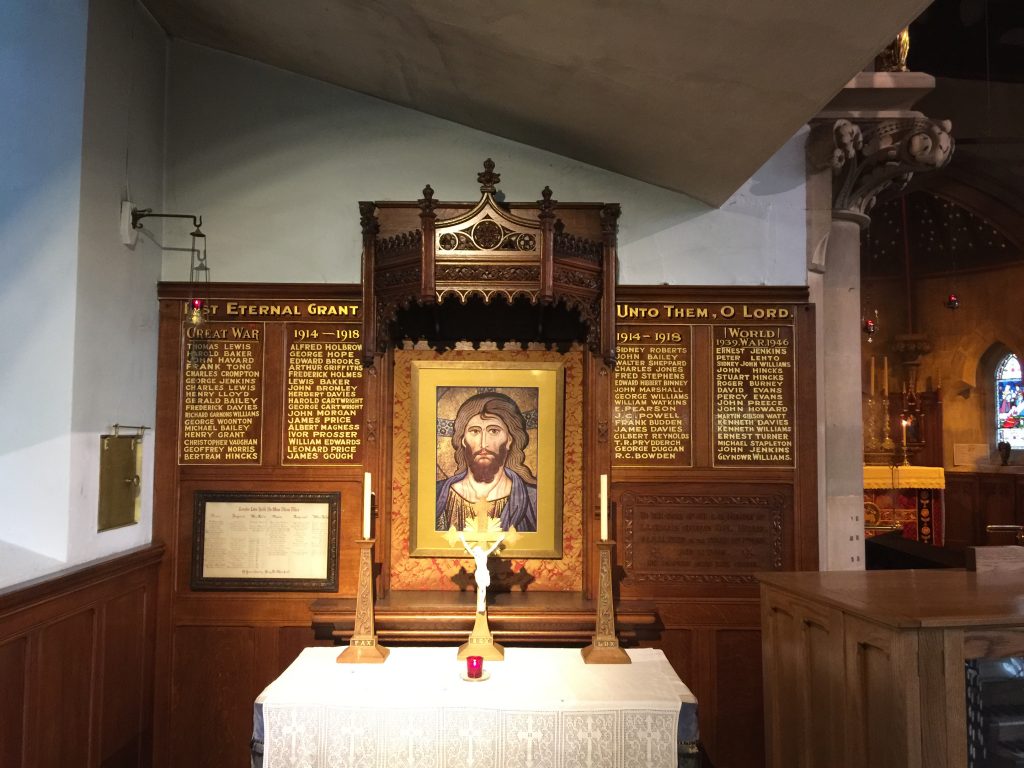 Visitors to the church will notice two memorials to the men of Hay and Cusop who were killed in action in World War 1 and World War 2.
To the left of the Chancel and organ console is a wood panelling memorial given by the then local headmaster, Henry Morris, in memory of his son Lt. Charles Geoffrey Noel Morris who was killed on the Somme in October 1916 aged just 22. Charles, who served with the Oxford and Bucks Light Infantry, has no known grave but is remembered on the Thiepval Memorial near the village of Thiepval, Picardy, France.
As the war progressed more names were added to the panels and then, with the outbreak of WW2, they were again employed in recording men lost to this later conflict.
Another memorial, to the right of the pulpit, has a fascinating story. This wooden triptych was gifted to the church many years ago. Opening the doors one sees a copper crucifix, surrounded by the names of the fallen. The materials from which this memorial is made came from the ex-battleship of the line, HMS Britannia.
HMS Britannia, formerly HMS Prince of Wales, became part of the new training establishment for naval officers based on the River Dart at Dartmouth, 1869. When new shore-based training facilities were built in 1905, she was still in use but was sold in 1914 to the firm J B Garnham for scrap. She was resold to Hughes Bolckow, ship breakers of Blyth, Northumberland, for the sum of £8,700.00 in 1916, over £821,000.00 today.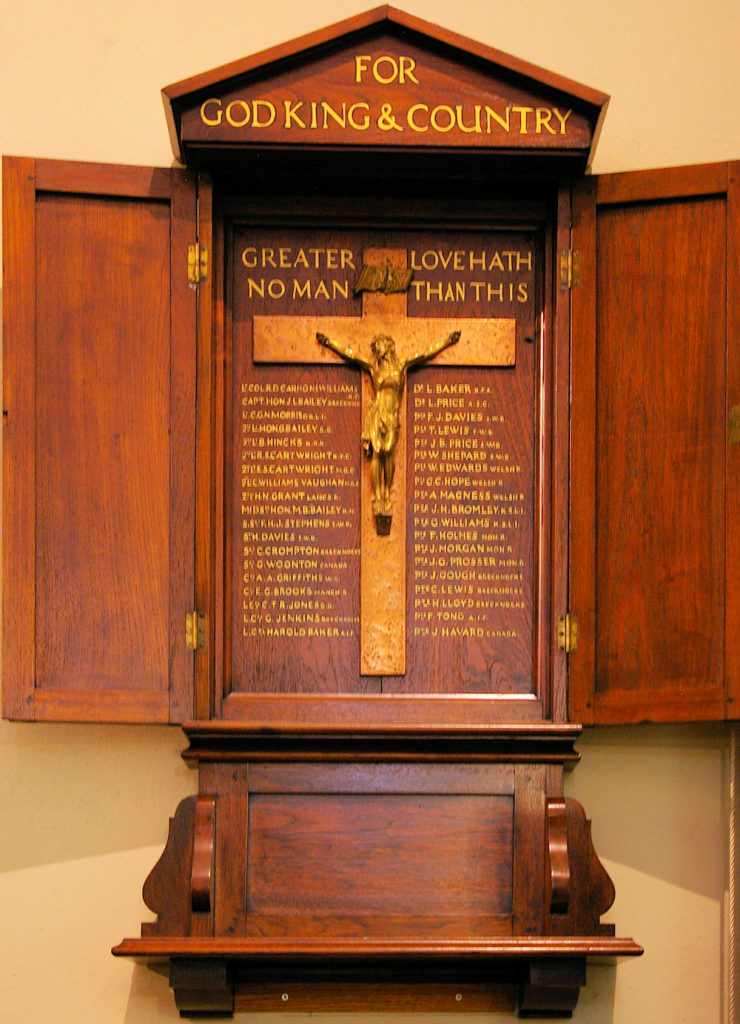 So, what's the connection with a war memorial in St Mary's Church, Hay-on-Wye?
Hughes Bolckow, with entrepreneurial flair, came up with a new use for the timbers and copper from the old ship. Soon, the market saw tea trolleys, pin trays, candlesticks, souvenir boxes, furniture, nick nacks and all sorts of other items, marketed as souvenirs of the Britannia.
As for the memorial? It was the time of the Great War and those enterprising entrepreneurs saw an opportunity: 'off the shelf' memorials. Bizarre as it seems, these triptych memorials can be seen in many churches in the British Isles. There is one nearby St Mary's, in Holy Trinity Church, Hardwicke.
Although she never saw active service herself, HMS Britannia has found a role in commemorating those of all services who fought and died in two world wars.