Christian Icons are images of Christ and his Saints. As we gaze on them and pray in front of them, we begin to realise that the people who they depict also behold us, filled with love and compassion.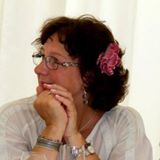 The artist Christina Watson is the mother of four children and has been a self-employed sign-writer and decorative artist for over 35 years.
She has always enjoyed restoring artists' work to their original glory, and has carried out restorative work on narrowboats, gypsy wagons and on other sign-written media. Icon writing – not painting! – is very similar but with an added spiritual dimension that comes from employing pure and natural materials, prayer and meditation.
Her interest in gold leaf, and making paints from pigments, is leading her to a more sacred type of painting, as well as inspiring in her a need to express in imagery what cannot be expressed in words.
Christina has loved Christian Icons since she was a small child. She does not pretend to be an expert, but is studying under the directorship of Aidan Hart, and with Brian Bessant, both well known for their devotion to, and work on, Icons. Aidan is internationally acclaimed, and his work is in great demand.
Christina has spent time studying in Bethlehem with Ian Knowles at the Bethlehem Icon School and spent a week in Cairo studying a specific iconographer from the 18th Century who was an Armenian refugee working with a Coptic Monk.
In 2018 Christina visited Wadi Natrun monastery in Egypt and several churches in Old Cairo.
Christina's Icons can be seen at St. Mary's Church, Hay-on-Wye or by following the link to her Facebook page. https://www.facebook.com/christina.watson.501?ref=br_rs
Christina undertakes commissions and can be reached by her email address: christinaicons@gmail.com
The following is an appreciation by Christina Watson of the work of the icon writer, especially the work of Aidan Hart, as featured on BBC Radio 4's broadcast 'Creation of an Icon: Aidan Hart'.
DOOR BETWEEN TWO WORLDS
The Annunciation Icon
Prayer is an essential part of writing a Holy Icon, we are also required to know biblical and liturgical texts from the Orthodox Bible while the image crystallises the detail, the history and theology.
In the Annunciation, the Virgin Mary is receptive and the Angel moves in from the heavenly realms, "I divide the icon into heaven and earth, uniting them with God's grace with the use of matter, praying with matter and making it articulate in the worship of God". Aidan studied for 12 years as a monk and spent 18 months on Mount Athos in Greece, he returned to England and lived as a hermit in the Shropshire hills for 6 ½ years until he met and married his wife and now has two children, he describes his life now as inwardly monastic. He demonstrates and speaks from his small studio in Shrewsbury. The 'busy-ness' of the world outside makes way for the stillness and peace, or 'Hesychasm', of his studio.
In designing this icon, he draws from previous works of iconographers. The word for tradition means hand over, it comes from the Latin 'tradicio'. Iconography is in itself a language expressing profundities, its not a copying exercise, everything is symbolic and the iconographer must know the meanings. Gabriel holds a staff, the angel is powerful and asserts authority, the virgin is receptive as she looks up from her work.
Once his drawing on paper is complete it is transferred to a wooden panel, this panel will eventually be venerated, kissed and touched, therefore it must be made of robust materials. The hardwood panel is covered with rabbit skin glue (RSG) which impregnates the wood and has linen also glued to it. Following this are twelve to fifteen coats of gesso. Gesso is made from a ratio of RSG to water with whiting added which these days is made from chalk. The panel is sanded to a fine marble like finish before the drawing is transferred.
The idea of using mineral (pigments), vegetable (wood) and animal (egg and RSG) completes the action of bringing earthly matter into a heavenly realm. The background of the icon is gilded with 23 ¾ gold leaf which is still beaten by hand. This is laid onto the board carefully with a flat brush called a 'gilders tip' and water with a touch of clear alcohol. Gold leaf needs a steady hand in order that it doesn't tear, and is finally burnished to true mirror perfection. The gilded area is not for forms or figures, egg tempera will not adhere to gold.
Symbolism of Paint
Before he begins work on the icon, Aidan prays the iconographer's prayer. He then proceeds to make the egg tempera, this is a mixture of egg yolk, water and a little clear alcohol, the pigments used are wholly natural. The alcohol acts as a preservative. The Annunciation is a Festal icon and should be joyful with the use of Azurite blue, Vermilion red, Earth green and yellow and red ochres.
Technical terms include 'glaze' and 'membrane', these allow pigments to have a semi-transparent finish that allow light to penetrate. Underpainting establishes the form.
Each pigment has its own character and needs different treatment. The iconographer must have a knowledge of the science and chemistry of these pigments, making the icon a combination of prayer, theology and science.
Gabriel is a bodiless spirit; Mary a human who has become divine by grace, in giving God his humanity. God takes on the whole cosmos, the gold is divinity this is God sustaining and creating all things. Mary has a red undergarment with a blue outer garment. Red is humanity, life's blood, blue is spirit, the colour of the sky.