ST MARY'S stands firmly in the Catholic Tradition of the Anglican Church and is in the Church in Wales diocese of Swansea and Brecon.
Worship is central to the life of St. Mary's, and we welcome everyone to any of our services.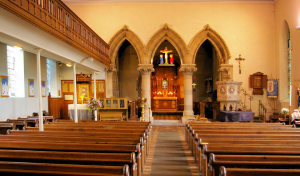 SUNDAYS
11.00am Solemn Mass – A sung mass (traditional language 1984 Church in Wales Prayer Book) with incense, choir, occasional sung propers, motets/anthems.
6.00pm Evensong (said in chancel)
WEEKDAYS
Evensong daily at 6.00pm (said in chancel)
Weekday Masses: Wednesday 10.00am Thursday 10.00am (St. John's Chapel, Lion Street)
For services at St Eigon's, Llanigon; St John's Chapel, Hay and 'Little' St Mary's, Capel-y-Ffin see calendar below.
CHURCH SERVICES FOR NOVEMBER 2023

WEDNESDAY 1st November Feast of All Saints

10.00am Mass: St Mary's, Hay
THURSDAY 2nd November All Souls Day

10.00am Requiem Mass: St John's Chapel, Lion Street, Hay
SUNDAY 5th November All Saints

9.30am Mass: St Eigon's, Llanigon
11.00am Mass:St Mary's Hay
Mass Setting: JP Lecot Lourdes Mass
Before: Flor Peeters Aria
Communion Motet: R Vaughan Williams O Taste and See
After: Henry Coleman Finale On Hyfrydol
2.30pm Mass: Little St Mary's, Capel-y-Ffin
WEDNESDAY 8th November All Saints of Wales

10.00am Mass: St Mary's, Hay
THURSDAY 9th November

10.00am Mass: St John's Chapel, Lion Street, Hay
SUNDAY 12th November Remembrance Sunday

9.30am Mass: St Eigon's, Llanigon
11.00am Mass: St Mary's Hay
Mass Setting: Martin Shaw: Anglican Folk Mass
Communion Motet: Contakion of the Dead
2.45pm Remembrance Sunday Service
WEDNESDAY 15th November

10.00am Mass: St Mary's, Hay
THURSDAY 16th November

10.00am Mass: St John's Chapel, Lion Street, Hay
SUNDAY 19th November

9.30am Mass: St Eigon's, Llanigon
11.00am Mass:St Mary's Hay
Mass Setting: Martin Shaw: Anglican Folk Mass
Communion Motet: David J Evans Be Still for the Presence of the Lord
2.30pm Evensong: Little St Mary's, Capel-y-Ffin
WEDNESDAY 22nd November

10.00am Mass: St Mary's, Hay
THURSDAY 23rd November

10.00am Mass: St John's Chapel, Lion Street, Hay
SUNDAY 26th November Christ the King

9.30am Mass: St Eigon's, Llanigon
11.00am Mass: St Mary's Hay
Mass Setting: Martin Shaw: Anglican Folk Mass
Communion Motet: S Coleridge-Taylor Lift Up Your Heads
Evensong is said or sung daily at St Mary's, Hay, at 6.00pm throughout the year