This calendar of events at St Mary's Church will be frequently updated to include ticketing and pricing details that are not immediately available, but will be posted as artists and musicians confirm.
There's plenty of good music and entertainment to look forward to, so watch this space for details of times and ticketing.
When the church is hired for a concert or event, a reasonable time is allowed for setting up and rehearsals, sound checks etc. There is small staging available, made up of 16 units, each 750 millimetres square. These can be arranged to suit requirements. A grand piano is available, also a pipe organ. The cost of tuning prior to a concert is the responsibility of the hirer. Details of our contracted tuner will be given.
Tea, coffee and soft drinks with biscuits and cake, or a licenced bar serving wine, bottled beer and soft drinks can be arranged. There is no additional charge to the hirer for this service – the church will retain the profits.
The church is a PRS licenced venue. Promoters should, if registered, make their own royalty returns to the PRS. A member of the music committee will be pleased to advise on this.
The cost of hire for concerts etc. is £150.00. This covers one event and one rehearsal.
When one or more events take place on the same day, each subsequent event will be charged at £50.00
.
SATURDAY 2nd December 10.30am for 11.00am
Organ Recital
Fr Richard Williams is this month's recital organist and will be playing, on the Bevington Organ, a selection of popular and classical pieces.
Entry is free, with a retiring collection in aid of St Mary's.
Tea, coffee and light refreshments will be available.
SATURDAY 2nd December 3.30pm
Hay Community Forum presents Ancient Pathways: Reflections from the Camino de Santiago
The Camino de Santiago is a network of ancient pilgrim routes dating from medieval times.
These pathways stretch across europe and come together at the tomb of St James, in the cathedral of Santiago de Compostela in North West Spain.
The Camino has a rich historical and spiritual significance. Modern travelers, following in the footsteps of countless pilgrims throughout history, become part of a tapestry of humanity seeking meaning and pupose. The route is dotted with ancient churches, monasteries and shrines that carry a history of centuries of collective prayer.
Sharing their experiences of the Camino pilgrimage are speakers Pete Ward, who cycled the 500 mile Camino in 10 days, and Mia Gardner who has recently returned to Hay having completed the Camino, in five weeks, on foot.
Fr Richard will also speak briefly about his experience of Santiago de Compostela.
This afternoon's music will feature Terry and Christina Watson, Catherine Hughes, Fr Richard and Lucy Green Ford.
Music will include a Bach organ solo celebrating Christmas, played by Fr Richard and Ave Maria sung by Terry accompanied by Fr Richard.
Fr Richard will also accompany Catherine singing a Welsh carol and Lucy performing a piece from the Messiah.
Christina will treat us to two Polish carols, accompanied by guitar.
Christmas mince pies and sherry will be available, on sale, after the Forum.
Tickets: £5.00 on the door.
WEDNESDAY 6th December 7.00pm THIS EVENT IS SOLD OUT

Hay Music Grand Christmas Concert: The Choir of Clare College, Cambridge, Director Graham Ross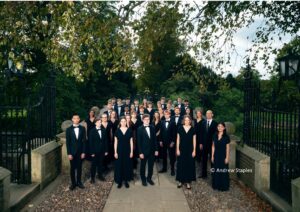 Hay Music welcomes back one of its favourite ensembles to perform its ever popular annual Christmas Concert.
'O Magnum Mysterium' is a magnificent festive programme that stretches from the richness of Renaissance polyphony by Praetorius, Morales, and Mouton, to masterpieces by Herbert Howells, Iain Farrington and Will Todd.
Join the Choir to welcome in the joy and mystery of Christmas.
FRIDAY 8th December 3.00pm
Hay Dial-a-Ride Christmas Carol Concert With The Border Singers

Enjoy traditional Christmas carols this afternoon at St Mary's, followed by mince pies and light refreshments.
A Christmas Draw will be held.
Transport available for Dial-a-Ride members
Tickets: £4.00 on the door
SATURDAY 9th December 7.30pm
Hay Community Choir presents Handel's Messiah
Under the baton of conductor Fiona Evans, the choir will be joined in this performance of the Messiah, (Part 1 with Hallelujah Chorus), by Clyro School Voices, the children of Hay Prtimary School and Rejouissance, leader, Simon Jones.
There wil be a licenced bar at this event.
Tickets £10.00 available from Hay Deli, Lion Street, Hay, and on the door.
SATURDAY 16th December 3.30pm – 4.30pm

Hay Madrigals Chamber Choir and Orchestra Christmas Concert conducted by Paul Sweeting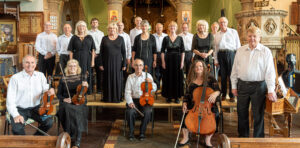 Hay Madrigals' Christmas Concert this year will include beautiful music by Buxtehude, Perti and Telemann for choir and orchestra, and some Mediaeval carols for solo voices accompanied by spinet. The opening organ piece will be played by Father Richard.
The concert will be followed by seasonal cakes, tea, coffee or wine
Tickets £10.00 on the door. info@haymadrigals.org; www.haymadrigals.org; www.facebook.com/haymadrigals