GRAVESTONES, TOMBS AND MONUMENTS
St. Mary's Church Graveyard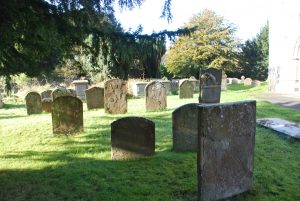 The oldest recorded grave in St Mary's Churchyard is that of Elinor and Peter Smith, 1697. The grounds ceased to be used in 1870 for burials when the Hay Cemetery was opened and since then only ashes have been interred in the church grounds.
Most of the gravestones, memorials and tombs were made from local stone which is prone to flaking and as a result many of the inscriptions are now no longer legible. Fortunately, some of these lost epitaphs were recorded in about 1969. A full and corrected record was made in 2016, including those of interred ashes. This was published in the booklet 'A Record of the Gravestones, Tombs & Monuments in Saint Mary's Churchyard Hay-on-Wye' by Bryn Like.
This booklet not only records the details of the graves but also their location in the graveyard and inside the church. It also includes details of the graves mentioned in 'Progress of the Duke of Beaufort in 1684' which have now been lost. The memorial stones located inside the church are also transcribed, and the stone effigy which is located there is also recorded; popular tradition claims it to be that of Maud Walbee or Matilda de Braose, but it is probably from a tomb of one of the early vicars of Hay.
An analysis of the professions recorded on the stones has been made and includes that of 'scotchman' which was a name given to a travelling salesman or packman in soft goods. Examples of some of the more interesting verses taken from the memorials are given. Many graves in the churchyard are memorials to people who died away from Hay. Some were returned for burial in the churchyard, others were added to the inscriptions although buried elsewhere in the UK and as far afield as the USA.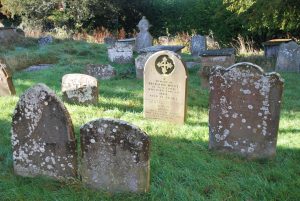 Some of the trades and professions mentioned are:
17 Inn Keepers; 13 'Reverends'; 9 Surgeons and 9 Builders; 4 Saddlers; 3 each of Boot & Shoe Makers, Drapers, Butchers, Maltsters, School Masters & Blacksmiths; 2 each of Jewellers, Bankers, Mercers, Woollen Manufacturers, Coopers, Grocers and Ironmongers; 1 Land Surveyor; Plumber; Carpenter; Mason; Joiner; Cabinet Maker; Wheelwright; Currier; Timber Merchant; Hatter; Estate Agent; Painter; Excise Officer; Glazier; Hairdresser; Postman; Plasterer; Glover; Army; Navy; 'Gent' and 'scotchman'.
Copies of the booklet are available at a cost of £2.00 and can be purchased at the church, or from Eric L. Pugh & Co., The Pavement, Hay-on-Wye, HR3 5BU and from Hay-on-Wye Tourist Information Bureau, Oxford Road, Hay-on-Wye, HR3 5DG.
If you are undertaking family research or would like further information about the tombs and gravestones, please get in touch via the contact email address: info@stmaryschurchhayonwye.co.uk