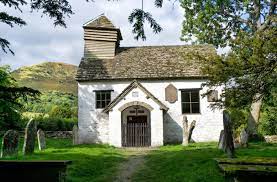 Built in 1762, on an older site of worship and pilgrimage, a 15th century church that had fallen into ruins, 'Little' St Mary's is situated in the quiet hamlet of Capel-y-Ffin, the Welsh name translating as 'Chapel at the border'.
Capel-y-Ffin is reached – from Hay Bluff and the Twmpa – by following Gospel Pass, a narrow, winding country road, often impassable in winter.
Diarist and clergyman Francis Kilvert who lived in Clyro some miles away, described 'Little' St Mary's as 'squatting like a stout grey owl among seven great, black, yews'.
With room for just twenty or so worshippers, the inside of the chapel has a stone floor, wooden pews, a gallery and a pulpit dating from 1780.
Capel-y-Ffin has been a site of inspiration for writers and artists for many years. Dorothy and William Wordsworth described it as one of their favourite places. The 'beat' poet Alan Ginsberg, author Bruce Chatwin and the artist Eric Ravilious stayed here and would doubtless have visited the chapel.
Eric Gill, sculptor, printmaker and typeface designer founded an artistic colony nearby. He carved two of the surviving headstones in the chapel graveyard.
An east-facing window is inscribed with the words from Psalm 121: 'I will lift up mine eyes unto the hills, whence cometh my salvation'. A quotation eminently fitting when surveying the wonderful valley and hills in which the chapel stands.
Services are held regularly at the chapel.
For times of services at 'Little' St Mary's', see the 'Calendar of Services' on this website