The calendar of events at St Mary's Church will be frequently updated to include ticketing and pricing details that are not immediately available, but will be posted as artists and musicians confirm.
There's plenty of good music and entertainment to look forward to, so watch this space for details of times and ticketing.
When the church is hired for a concert or event, a reasonable time is allowed for setting up and rehearsals, sound checks etc. There is small staging available, made up of 16 units, each 750 millimetres square. These can be arranged according to need. A grand piano is available, also a pipe organ. The cost of tuning prior to a concert is the responsibility of the hirer. Details of our contracted tuner will be given.
Tea, coffee and soft drinks with biscuits and cake, or a licenced bar serving wine, bottled beer and soft drinks can be arranged. There is no additional charge to the hirer for this service – the church will retain the profits.
The church is a PRS licenced venue. Promoters should, if registered, make their own royalty returns to the PRS, otherwise a member of the music committee can undertake this.
The cost of hire for concerts etc. is £130.0
SATURDAY 28 MAY 1.00pm NOTE: CHANGE OF VENUE. THIS EVENT WILL NOW TAKE PLACE AT THE SWAN HOTEL

Lunchtime Concert: Imaginary Landscapes
Poetry and Harp with Chris Tutton and Anne Denholm
A special event featuring words and improvised music with leading poet, author and raconteur Chris Tutton and harpist Anne Denholm.
Chris Tutton has published seven critically acclaimed collections of poetry. Named by Ned Sherrin as "the master of the short poem", his work has also been described as "absolutely beautiful" by Alexander Waugh, with the Sunday Times lauding its "dramatic passion and dignity".
Anne Denholm is one of the leading British harpists of her generation and served as Official Harpist to HRH The Prince of Wales, 2015–2019. She has earned a strong reputation for her interpretations and powerful engaging performances across a variety of musical fields, and in 2020 was elected an Associate of the Royal Academy of Music.
Tickets: £12.00
Book by Phone
Call the Box Office on 01497 822 629 with your chosen event numbers and your credit or debit card to hand.
The Box Office is open from 9.30am to 5pm, Monday to Friday.
SATURDAY 28 MAY 4.00pm BBC Radio 3: THE LISTENING SERVICE
Tom Service brings his hugely popular Radio 3 programme The Listening Service to Hay Festival 2022.
Each week Tom creates a fantastic aural spectacle as he takes his ideas on an ear-opening and mind-expanding walk through the musical cosmos. The fun lies in Tom's fearless interplay with the music. He creates connections across music genres to reveal a world where Miley Cyrus and Mozart, Herbie Hancock and Franz Schubert often collide.
Today the subject is the Cadenza.
Tom is joined at the piano by the brilliant pianist, thinker and writer Jeremy Denk as they put that technically brilliant musical flourish through its paces.
SUNDAY 29 MAY 1.00pm

Lunchtime Concert: Hay Music. Maki Sekiya and Ilya Chetverikov

Maki Sekiya wowed Hay Music audiences in 2021 and returns to Hay, this time with her pianist husband Ilya Chetverikov, in a programme spanning reflective and highly dramatic music for two pianos by French and Russian composers of the early 20th century. The programme features Debussy's Blanc et Noir (1915), 2nd movement, Lent. Sombre; Stravinsky's The Rite of Spring (1913), arranged for two pianos by the composer: Parts 1 & 2: Adoration of the Earth, The Sacrifice; and Rachmaninov's Symphonic Dances Op 45 (1940), 2nd & 3rd movements: Andante con moto; Tempo di Valse and Lento assai – Allegro vivace.
Rachmaninov and Stravinsky were born within a few years of each other and had similar musical backgrounds. Oddly both suffered notorious first performances of early major pieces – the scandal around first performance of The Rite of Spring in 1913 is well documented but the first performance of Rachmaninov's First Symphony some 20 years earlier was also considered a failure and the careers of both composers were significantly influenced by these experiences. Debussy, who was 20 years older than Stravinsky, first met him in 1910 and, despite very different aesthetics, they hugely respected each other's music.
Tickets: £15.00
Only Friends of Hay Festival may buy tickets prior to public launch. If you are already a Friend please log in here. If you would like to become a Friend, you can do so here.
MONDAY 30 MAY 1.00pm – 1.45pm
BBC Radio 3 Lunchtime Concert 1
Aleksey Semenenko (violin) and Sam Haywood (piano)
The first of four recitals broadcast from Hay this week. Dvorak Sonatina for violin and piano in G, Op 100 Maria Theresia von Paradis Sicilenne, Amanda Maier Violin Sonata in B minor, Sarasate Introduction and Tarantella.
45 mins
Recorded for broadcast on BBC Radio 3. Please arrive in good time.
Tickets: £10.00
Only Friends of Hay Festival may buy tickets prior to public launch. If you are already a Friend, please log in here. If you would like to become a Friend, you can do so here.
TUESDAY 31 MAY 1.00pm

BBC Lunchtime Concert 2
Mithras Piano Trio and Gary Pomeroy
In the second of four BBC Radio 3 lunchtime recitals broadcast from Hay during the Festival week, the Mithras Piano Trio and Gary Pomeroy (viola) play a programme featuring Dvořák's Piano Quartet in D, Op 23 and Mahler's Piano Quartet.
Recorded for broadcast on BBC Radio 3. Please arrive in good time.
Tickets: £10.00
Only Friends of Hay Festival may buy tickets prior to public launch. If you are already a Friend please log in here. If you would like to become a Friend, you can do so here.
WEDNESDAY 1 JUNE 1.00pm
BBC Radio 3 Lunchtime Concert 3
Mithras Piano Trio
In the third of four BBC Radio 3 lunchtime recitals broadcast at Hay Festival this week, the Mithras Piano Trio play Dvorak Piano Trio No 3 in F minor, Op 65 and Shulamit Ran Soliloquy.
Recorded for broadcast on BBC Radio 3. Please arrive in good time.
Tickets: £10.00
Only Friends of Hay Festival may buy tickets prior to public launch. If you are already a Friend please log in here. If you would like to become a Friend, you can do so here.
THURSDAY 2 JUNE 1.00pm
BBC Radio 3 Lunchtime Concert 4
Ruby Hughes and Huw Watkins
In the last of our four BBC Radio 3 lunchtime recitals broadcast at Hay Festival this week, Ruby Hughes (soprano) and Huw Watkins (piano) play a programme featuring: Dvorak (So Many a Heart is as Though Dead, Op 83 No 2; In the Sweet Power of Your Eyes, Op 83 No 7; Oh Dear Soul, the Only one, Op 83 No 8; The Forest is Quiet all Around, Op 55 No 3; and Songs my Mother Taught me, Op 55 No 4); Kashperova (Träume, from 12 Romances No 1, Wunsch, from 12 Romances No 4, Herbstwind, from 12 Romances No 5, Reiffrost im Herbst, from 12 Romances No 10); Watkins (Echo); and Britten (Arr. Folksongs).
Recorded for broadcast on BBC Radio 3. Please arrive in good time.
Tickets: £10.00
Only Friends of Hay Festival may buy tickets prior to public launch. If you are already a Friend please log in here. If you would like to become a Friend, you can do so here.
FRIDAY 3 JUNE 1.00pm
Lunchtime Concert: Hay Music. The Mavron String Quartet
Christiana Mavron (violin), Rachael Briton (violin), Niamh Aston (viola) and Beatrice Newman (cello) blend classical repertoire with fresh contemporary pieces. The programme features:
JS Bach Brandenburg Concerto No. 3 (arranged for string quartet by Lynne Latham)
Peter Reynolds String Quartet No. 2 Footsteps Quiet in the Shadow
Felix Mendelssohn String Quartet in F No. 6 Op 80
The Quartet has a passion for innovative outreach, inspiring audiences and engaging communities. Its commitment to pushing the boundaries of its art sees it at the forefront of an exciting chamber music revival in Wales, and in 2010 it became the first ever Ensemble in Residence at St David's Hall (the National Concert Hall of Wales).
Tickets: £15.00
Only Friends of Hay Festival may buy tickets prior to public launch. If you are already a Friend please log in here. If you would like to become a Friend, you can do so here.
In collaboration with Hay Music
SATURDAY 4 JUNE 1.00pm
Lunchtme Concert: Vivaldi Gloria with the Hay Festival Chorus
Hay Community Choir will be joined by members of the Hay Festival Chorus to perform Vivaldi's Gloria in celebration of being able to sing together again. During the pandemic Hay Community Choir continued on zoom, working on songs appropriate to this time and suitable to sing together in person. These include pieces by Dominic Stitchbury and Anna Tabbush as well as African songs. This joyful selection of music is guaranteed to put a smile on your face and remind us all of the importance of singing as a community experience.
Tickets: £12.00
Only Friends of Hay Festival may buy tickets prior to public launch. If you are already a Friend please log in here. If you would like to become a Friend, you can do so here.
SATURDAY 18 JUNE 3.30 pm
Hay Madrigals Chamber Choir and Orchestra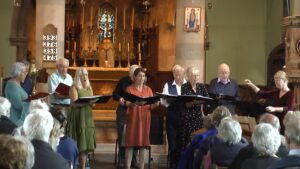 Hay Madrigals will perform the Mozart Missa Brevis K.275, with violins, bass viol and keyboard continuo, and our consort of voices.
There will also be Handel's beautiful soprano and tenor duet 'As Steals the Dawn', with spinet, oboe, bass viol and violin; Marcello's 'O Dio Perche' for soprano and alto soloists with spinet accompaniment; and Josef Aumann's joyful 'Regina Coeli', performed by the full consort of voices and instruments.
St Mary's organist and choirmaster, Barrie Magill, will open the concert with a rousing piece by Elgar.
A selection of homemade cakes together with tea, coffee or wine will be available.
Entry free with a retiring collection
www.haymadrigals.org; www.facebook.com/haymadrigals; contact: info@haymadrigals.org
FRIDAY 24 JUNE 7.00PM
The Tippett Quartet with Emma Abbate – Piano
Emma Abbate returns to Hay Music in a collaboration with The Tippett Quartet
John Mills – violin, Jeremy Isaac – violin
Lydia Lowndes-Northcott – viola, Bozidar Vukotic – cello
Programme
Robert Schumann: Piano Quintet
Michael Tippett: String Quartet No 5
Edward Elgar: Piano Quintet
The Tippett Quartet regularly appears at Kings Place, Purcell Room, Wigmore Hall, Queen Elizabeth Hall and Bridgewater Hall and frequently performs on BBC Radio 3. They have performed at the BBC Proms and toured Europe, Canada and Mexico. Their broad and diverse repertoire highlights the Tippett Quartet's unique versatility. Their impressive catalogue of recordings has been released on Naxos, EMI Classics, Signum, Decca, Classic FM, SOMM Records, Vivat, Guild, Real World, Dutton Epoch and Tocatta Classics with universal critical acclaim.
The Tippett Quartet recently worked on a ground-breaking reimagining of Beethoven's iconic Op 135 with composer/soundscape artist Matthew Herbert for a BBC Radio 3 broadcast, which was also used as the BBC TV ident. They have also given numerous world and UK premieres including works by John Adams, Howard Goodall and Stephen Dodgson.
In 2013 the Tippett Quartet rediscovered Gustav Holst's Fantasy on British Folk Songs which, with the help of the eminent musicologist Roderick Swanston, they were able to complete and give a world premiere on BBC Radio 3. They have also worked with Peter Maxwell-Davies for a performance of his 9th Quartet at the South Bank, with Anthony Payne on his Quartet No 1 for a live BBC broadcast from Spitalfields Festival and Hugh Wood on his String Quartet No 3 at the Presteigne Festival.
2016 saw the quartet commission pianist and composer Alissa Firsova to write her 'Tennyson Fantasia', a project supported by The Ralph Vaughan Williams Trust, Ambache Trust and Nicholas Boas Trust. It was premiered at Kings Place with the actor Finbar Lynch reciting Tennyson's poems and was subsequently performed on BBC Radio 3 and at various concert venues across the UK. They also appeared on the Decca CD release of Damian Montagu's music, in which they accompanied the actor Hugh Bonneville narrating his own poetry. A live premiere of both poetry and music was premiered at Chichester's Minerva Theatre.
In 2011 they celebrated the anniversary of the iconic film composer Bernard Herrmann with a series of concerts and radio broadcasts alongside quartets by Miklos Rozsa and Eric Korngold. They also commissioned a unique string quartet arrangement of the 'Psycho' film score, which Norma Herrmann, Bernard's widow, granted them special permission to make and perform. She also accompanied them on several occasions to give pre-concert talks on Herrmann's life and music. In 2016, the Tippett Quartet continued their link with film composers when they gave the premiere of Alberto Iglesias' string quartet No 1 in Madrid.
In 2014 the Tippett Quartet started a collaboration with some of the UK's finest Jazz musicians with the launch of their 'Close To You' project featuring Matt Ford – a tribute to the album that Frank Sinatra made with the Hollywood String Quartet. They are now continuing this collaboration featuring singer and broadcaster Claire Martin OBE. Both projects have led to performances throughout the UK, a Radio 3 broadcast and concerts at Snape Proms, Ronnie Scott's and Pizza Express, Dean Street.
Alongside a busy touring schedule, the Tippett Quartet pursues a keen interest in educational work with both schools and universities. They were Ensemble in Residence at Sidney Sussex College, Cambridge University for 2012-13 and since September 2015 they began two exciting new residencies at Royal Holloway University, London and St Edmund's School, Canterbury. They are also featured in the new Boosey & Hawkes publication '4 Strings' edited and compiled by Liz Partridge.
'The Tippett Quartet's performances are little short of astonishing'. The Times
Emma Abbate
Described as 'an amazingly talented pianist' by Musica, Emma Abbate enjoys a demanding career as a piano accompanist and chamber musician. She works with some of the finest singers and instrumentalists of her generation and has performed in duo recitals for international festivals and concert societies in Austria, Portugal, Italy, Poland and the USA. In addition to broadcasts on BBC Radio 3, appearances in the UK include the Wigmore Hall, Southbank Centre, Royal Opera House, St John's Smith Square, St George's, Bristol and the Aldeburgh Festival.
Emma's varied discography includes a series of acclaimed recordings devoted to Italian vocal chamber music with the mezzo-sopranoHanna Hipp and baritone Ashley Rches. A keen advocate of contemporary music, Emma has released two discs devoted to works by Stephen Dodgson that include his piano quintets with theTippett Quartet. Other world-première recordings include works for cello and piano by Algernon Ashton and Krzysztof Meyer with Evva Mizerska. Emma also cultivates an active interest in historical keyboards, and has performed and recorded on a range of original instruments for the Finchcocks Charity, at the Cobbe Collection at Hatchlands Park and the Russell Collection. She has recently released Weber's complete keyboard duets with Julian Perkins, with whom she has also recorded Mozart's complete keyboard duet sonatas on period instruments.
Based in London, Emma is a professor at the Guildhall School of Music and Drama, a staff coach at the Royal Opera House, Covent Garden, and has taught at the Verbier Festival Academy. Following her graduation from the S. Pietro a Majella Conservatoire in Naples and an Advanced Diploma from the S. Cecilia Conservatoire in Rome, Emma studied in London with Yonty Solomon. She completed her studies with Geoffrey Pratley as a scholar at the Royal Academy of Music, from where she graduated with distinction. She was also awarded an Italian Literature and Culture degree cum laude from the Federico II University in Naples, and has been elected an Associate of the Royal Academy of Music in recognition of her 'significant contribution' thus far to the music profession.
Tickets: £15.00 / under 25s – £7.50.
THURSDAY 14 JULY 7.30pm
TO CELEBRATE HER MAJESTY THE QUEEN'S PLATINUM JUBILEE:
A SPECIALLY COMMISSIONED CONCERT IN AID OF HAY-DIAL-A-RIDE
Refreshments and Raffle.
Tickets on the door: £10.00 Adults. £5.00 Under 16s.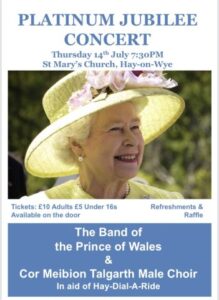 SATURDAY 23 JULY 7.00PM
Llyr Williams – Piano
Programme
Haydn: Piano Sonata in C major, Hob. XVI:48
Schumann: Fantasy in C major, op 17
Rachmaninov: Variations on a Theme of Corelli, Op 42
Liszt: Mephisto Waltz No 1, S. 514
Wagner/Liszt: Liebestod from Tristan und Isolde
Born in Pentrebychan, North Wales, Llŷr Williams read music at The Queen's College, Oxford and went on to take up a postgraduate scholarship at the Royal Academy of Music where he won every available prize and award. He is also an Honorary Fellow of the Royal Welsh College of Music and Drama, and in 2017 was awarded an Honorary Doctorate from the University of Wales. He was an active member of the Live Music Now! scheme for several years, was selected for the Young Concert Artists Trust in 2002. From 2003-2005 he was a BBC New Generation Artist and in 2004 received a Borletti-Buitoni Trust award.
Llŷr is widely admired for his profound musical intelligence and the expressive and communicative nature of his interpretations. He has worked with orchestras including the BBC National Orchestra of Wales, Scottish Chamber Orchestra, London Philharmonic Orchestra, London Symphony Orchestra, Royal Liverpool Philharmonic, BBC Philharmonic, Hallé Orchestra, Sinfonia Cymru, I Pomeriggi Musicali, Meininger Hofkapelle, Berner Kammerorchester, and the Mozarteum Orchestra in Salzburg. A regular performer in the Wigmore Hall's main piano series, Williams has also appeared at the BBC Proms in London, Gilmore International Keyboard Festival in the USA, Piano aux Jacobins in Toulouse and the Edinburgh International Festival. He is a regular performer at the East Neuk Festival in Scotland and is currently Artist-in-Association at the Royal Welsh College of Music and Drama and Artist-in-Residence at the Cowbridge Festival in Wales.
Williams is an acclaimed performer of Beethoven with several complete piano sonata cycles under his belt. Following a successful first cycle in Perth, Williams subsequently performed a complete cycle during an epic two-week marathon in Edinburgh that won him the prestigious South Bank Show Award. He later completed two cycles as a nine-recital project at the Wigmore Hall and the Royal Welsh College of Music & Drama in Cardiff between 2014 and 2017. In January 2017 he completed a successful collaboration with the Scottish Chamber Orchestra in performances of all five Beethoven piano concerti.
The 2018-19 season included his debut with the Malaysian Philharmonic Orchestra, and returns to the Royal Philharmonic and BBC National Orchestra of Wales as well as a highly successful Canadian recital debut at Salle Bourgie in Montreal, with the critic of Le Devoir describing Williams as 'un secret trop bien gardé'. The 2019-20 season saw Llŷr continuing his collaboration with the BBC National Orchestra of Wales in Beethoven's Choral Fantasy, as well as his debut with the Orchestre Symphonique de Bretagne. Williams also returned to the Edinburgh Festival in August 2019, while for the Beethoven anniversary season he performed a complete Beethoven sonata cycle for the Festival Cultural de Mayo in Guadalajara, Mexico, broadcast from his home in North Wales.
Llŷr Williams' eclectic taste is reflected in his discography. April 2018 saw the release of 'Beethoven Unbound', a 12-CD Box set of the Wigmore Hall Beethoven cycle, on Signum Records, which was BBC Music Magazine's 'Recording of the Month' in August 2018. His previous critically acclaimed CD, Wagner Without Words (Signum, August 2014) reflects Williams' intimate relationship with operatic music. Other recordings by Williams include two solo albums for Signum, as well as William Mathias' second Piano Concerto with the BBC National Orchestra of Wales on Welsh label Tŷ Cerdd.
Tickets: £17.50 / under 25s – £8.75.
Tickets are also available from the Hay Tourist Information Bureau (opposite the main town carpark) and at the door if still available.
MONDAY 15th AUGUST: CLEANSING THE WYE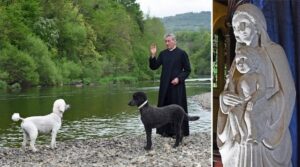 Times to be announced
On 15th August, the Feast of the Assumption of Our Lady (celebrating the taking up to Heaven of the Virgin Mary at the time of her death), canoes will set off on a five-day journey down the River Wye, taking a statue of the Virgin Mary with them. Where they stop along the route, there will be choirs, and parties, and all the churches along the route have agreed to ring the church bells as the statue floats by.
When they approached Hereford Cathedral to ask them to ring the bells, they offered something even better – so there will be a procession from the river carrying the statue to the West End of the cathedral, and the statue will then be installed on the high altar for Choral Evensong, where it will stay overnight.
The purpose of the journey is to raise money to clean up the River Wye, as well as raising awareness.
Father Richard hopes it can bring people together, whether they have a Christian faith or not.
(Thanks to Lesley Arrowsmith, 'Life in Hay' blog for allowing us to use this piece).
Picture shows Father Richard blessing the River Wye near Hay-on-Wye, with his dogs Daisy (left) and Moby (right) Pic credit: Jay Williams for The Telegraph.