The calendar of events at St Mary's Church will be frequently updated to include ticketing and pricing details that are not immediately available, but will be posted as artists and musicians confirm.
There's plenty of good music and entertainment to look forward to, so watch this space for details of times and ticketing.
When the church is hired for a concert or event, a reasonable time is allowed for setting up and rehearsals, sound checks etc. There is small staging available, made up of 16 units, each 750 millimetres square. These can be arranged according to need. A grand piano is available, also a pipe organ. The cost of tuning prior to a concert is the responsibility of the hirer. Details of our contracted tuner will be given.
Tea, coffee and soft drinks with biscuits and cake, or a licenced bar serving wine, bottled beer and soft drinks can be arranged. There is no additional charge to the hirer for this service – the church will retain the profits.
The church is a PRS licenced venue. Promoters should, if registered, make their own royalty returns to the PRS, otherwise a member of the music committee can undertake this.
The cost of hire for concerts etc. is £130.00
FRIDAY 10th DECEMBER 7.00pm
HEXAD: Then and Now: Christmas Music from Medieval to Modern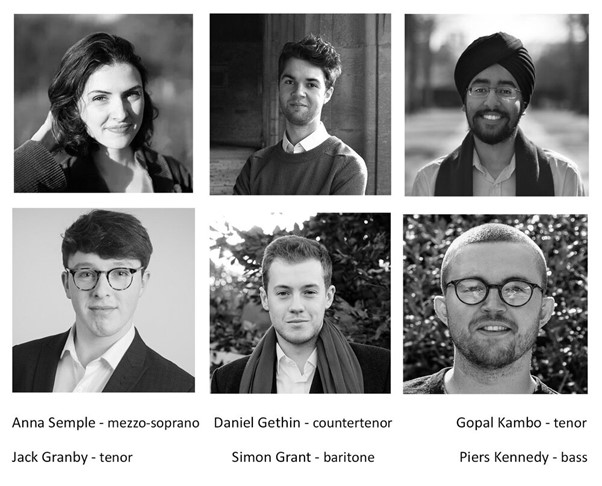 The Hexad Singers comprise a group of young singers from Oxford and Cambridge where they have sung for the choirs of St John's College, Cambridge and both New and Magdalen Colleges, Oxford. Including Herefordshire singer Daniel Gethin, the ensemble's individual members are much in demand with major professional groups. Amongst others, these exciting young vocalists have performed with The Sixteen, Tenebrae, The Gesualdo Six and Ex Cathedra.
As well as traditional pieces, composers featured in the programme include William Cornysh, Hans Leo Hassler, Peter Warlock, William Walton, Hugo Distler and John Rutter. Also works by members of the ensemble – Piers Kennedy and Anna Semple.
Tickets: £12.50 (students £6.25) From https://www.haymusic.org/ Also available from the Oxford Road Tourist Bureau or 'on the door' (cash or card).
Hay Music can also be followed via the 'Links' page on this website.
TUESDAY 21st DECEMBER
3.30pm – 4.30pm
HAY MADRIGALS PRESENT 'A CHRISTMAS CONCERT'
Following their summer performance of the Vivaldi Gloria to a packed church, Hay Madrigals are back, this time in Christmas mode – glorious voices accompanied by violins, a violone (a double bass viol) and chamber organ.
This enchanting candle-lit performance will include one of Haydn's early short masses, as well as Christmas music by Buxtehude and Handel, with full choir and instruments, and will also feature Mediaeval and Renaissance carols by solo voices and spinet.
Fr. Richard will open the concert with one of his stirring, hallmark, organ performances.
Home-made festive refreshments, provided by Gill Spurr and her team, will be served following the performance.
Hay Madrigals looks forward to welcoming old friends and new to what promises to be an engaging and delightful afternoon of Christmastide festivity.
Free entry, with a retiring collection to benefit St Mary's Church.