The calendar of events at St Mary's Church will be frequently updated to include ticketing and pricing details that are not immediately available, but will be posted as artists and musicians confirm.
There's plenty of good music and entertainment to look forward to, so watch this space for details of times and ticketing.
When the church is hired for a concert or event, a reasonable time is allowed for setting up and rehearsals, sound checks etc. There is small staging available, made up of 16 units, each 750 millimetres square. These can be arranged according to need. A grand piano is available, also a pipe organ. The cost of tuning prior to a concert is the responsibility of the hirer. Details of our contracted tuner will be given.
Tea, coffee and soft drinks with biscuits and cake, or a licenced bar serving wine, bottled beer and soft drinks can be arranged. There is no additional charge to the hirer for this service – the church will retain the profits.
The church is a PRS licenced venue. Promoters should, if registered, make their own royalty returns to the PRS, otherwise a member of the music committee can undertake this.
The cost of hire for concerts etc. is £130.00
SATURDAY 5th FEBRUARY

10.30am
Free entry. Retiring collection in aid of St Mary's Church
ORGAN RECITAL BY BISHOP RICHARD FENWICK:
MUSIC FOR A WINTER'S DAY: TO BRING GOOD CHEER

An organ Transcription of Music for the Glass Armonica:
Sonata VI in A minor (ed. David Williamson)
(Adagio – Allegro – Adagio)
Johann Gottlieb Naumann (1741-1801)
Two Choral Preludes:
"O wie selig seid ihr doch, ihr Frommen"
"O Gott, du frommer Gott"
Johannes Brahms (1833-1897)
Organ music from mid 19th century Paris:
Fantasie in G Major
(Allegro – Andante con grazia – Larghetto – Allegro)
(Ed. W J Westbrook & David Williamson)
Alexandre Pierre–François Boëly (1785 – 1858)
Two Liszt Transcriptions:
Consolation IV in D flat major (ed. Pierre Gouin)
Andante Religioso (from "Bergsymphonie")
(ed. William Carl)
Franz Liszt (1811-1886)
A Concert piece from Victorian London:
Battle March for the Feast of Michael the Archangel
"There was war in heaven: Michael and his angels fought against the dragon, and the dragon fought and his angels; and prevailed not". (from the Epistle for St Michael's Day)
Frank Adlam (1857-1929)
The final spirited March for the Feast of Michael the Archangel is by Frank Adlam – for many years the organist at one of the very "favoured" London West-End churches. He was a fine teacher, a writer of choral music, and a popular performer – including at venues like the Alexandra Palace, with its great concert Organ by "Father" Henry Willis.
So, there's something in this programme for everybody!
Richard Fenwick was born in Cardiff, and he studied organ under the distinguished Welsh blind organist David Williams. Willams was a pupil at the Royal College of Music under Sir Walter Alcock, and the English composer John Ireland.
At Lampeter Richard read English and History. He then studied Theology at Cambridge and following this was ordained in Llandaff. However, he continued with his music studies taking a B.Mus. at Trinity College Dublin. He subsequently did a Master's in 19th century Church Music, and a PhD in Church History, both at the University of Wales. Meanwhile he took Fellowships at the London College of Music (Organ) and Trinity College, London (Composition).
After curacies in South Wales, he moved as Minor Canon of Rochester and then St Paul's Cathedral, London. Following 8 years in Ruislip, he moved to be Residentiary Canon and Precentor at Guildford Cathedral. In 1997 he was appointed Dean of St Woolos Cathedral Newport, and then in 2011 he was consecrated Bishop of St Helena in the Province of Southern Africa. After 7 years in that wonderful diocese he retired, and he and Jane have returned home to Llandaff.
Amongst very many recitals, he has performed twice at St Paul's Cathedral in London. He has also performed recitals at the Cathedrals of Rochester, Guildford, Coventry, Bangor, Newport, Newcastle on Tyne – and six times at St Paul's Cathedral, St Helena.
He is delighted to be here in Hay-on-Wye, especially with old friends and colleagues, Barrie Magill and Fr Richard Williams.
Tea, coffee, cakes and biscuits will be available by donation.
Free entry. Retiring collection in aid of St Mary's Church
SATURDAY, 19th FEBRUARY at 3.30pm
JAYSON GILLHAM – PIANO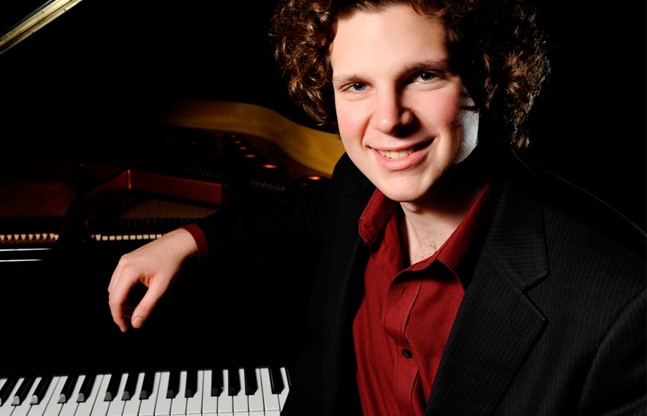 Well known to Hay Music audiences through his several sold-out performances in the past at Dorstone House, as well as his thrilling online recital recorded specially for Hay Music and broadcast during lockdown in 2020/21, Jayson is dropping in to Hay on a somewhat round-about route to his solo debut recital at St Martin-in-the-Fields on 22 February and will give us a preview of his fresh programme of Bach transcriptions.
A bumper programme of Bach Transcriptions by Busoni, Gounod, Kempff, Liszt, Rachmaninov, Siloti and Hess.
Full programme details and tickets (£12.50 Students £6.25) from the website http://www.haymusic.org/ and the Tourist Information Office, Oxford Road, Hay